Author and Publisher From Jamaica
Ever since I was a young boy in Jamaica, Caribbean, during my first days in middle school, I began dreaming about writing books, about creating a name behind author wadehilton through effective storytelling. I wanted to become a novelist, or should I say an author? It doesn't really matter, for any of the two fits in perfectly well with this wonderful website I've created for you. The idea of writing never left me as the days turned into weeks, and then months. But what was I to do to achieve my goal? I had no one to turn to because most of my friends and relatives, the ones with whom I shared the idea, thought that it was too early for me to decide on the career I wanted to pursue. None of the other kids knew what they wanted yet, most of them would say, so why not run along and wait until you're certain of what you want? Perhaps after high school or in college when you're older, one of my favorite teachers suggested. It hurt. But as the days went by, the thought of writing became bigger and more dominant in my mind. It wouldn't leave me, wouldn't let me go. There was nothing I could do to resist it, although sometimes along the way I couldn't help but thinking they might be right. I should wait until I was more mature, at least after I finished middle school. Why don't you read then, a voice deep inside of me began to echo, to reverberate? It would be a good idea for you to start building an insightful vocabulary, getting to know the styles of other authors, learning all the grammatical rules there were, the different kinds of sentences and paragraphs that could be found, and how to construct them in order to accomplish my goal of writing something.
My Love For Books
So it was thus that I got involved with books. They would become the center of my life and just before I finished middle school, I had hundreds of them tucked away under my wings. Reading had become a pastime of mine. I just couldn't seem to stop doing it, stop reading whatever I laid my hands on. I started visiting our local library, buying as many books as I could at all the used bookstores around town, borrowing from friends and relatives as I devoured them one by one. Great authors such as Shakespeare, Chaucer, Donne, Cervantes, Nietzsche, Dostoyevsky, Homer, Plato, Stevenson, Joyce, Hegel, Austen, Dickens, Shaw, Christie, Lawrence, Eliot, Fitzgerald, Fowles, Hemingway, Kipling, Milton, Orwell, Wilde, Ortega y Gasset, Garcia Marquez, Steinbeck, Tolkien, Tolstoy, and the list went on, had a lot of influence on me, as I began reading every book I could come across. Books and the art of reading and benefiting from them became a part of my life.

There was no stopping me now from reading for I got a scholarship to attend the Baltimore Polytechnic high school in Baltimore, Maryland, USA and soon found out that books, journals, comics, magazines and even newspapers were readily available anywhere you turned. I started collecting them as scores of American writers became accessible to me. I devoured Mencken and Thoreau and Steele and Sheldon, Maya Angelou, Ray Bradbury, T. S. Eliot, Ralph Waldo Emerson, William Faulkner, O. Henry, Jack London, Kurt Vonnegut, John Updike, Harriet Beecher Stowe, and when I got to Napoleon Hill, his success philosophy made me see that if it were writing I wanted I could get it.
Loyola Led Me Right Back To Jamaica
By the time I got to college, Loyola College it was called at the time—years later it became Loyola University Maryland—I was reading three or four books per week and sometimes even five if they were short. This began to heighten my interest even more in writing and before the end of my freshman year I started Gwen & Gwenette. Most of my friends and colleagues on campus didn't hesitate to make fun of me by calling the book the uncommon proposal. It didn't really matter to me because by then I knew I was bound to become a writer, as I jotted down dozens of ideas on notepads, from which I finally wrote Goddess of the Arawaks, Gloria Grand, Success For All, based on Hill's Think and Grow Rich, and Like Father Like Son. Today I have more than eleven books on the market, eight of which I'm currently publishing and distributing from my company, WadeRoss Publishing, which I created to produce my books.
At present, I'm dedicating my time to promoting reading through my books from my beloved country, Jamaica, where I've set up a workshop to help young writers around the Caribbean and the world develop their talents and carry out their dreams of getting published, or should I say becoming a writer. I've also gotten tied up with the hotel industry because of the last name Hilton and the link to my page called Jamaica and tons of people look to me for information on how to take vacation, especially all-inclusive vacations, on this sunny little paradise, or find airlines and travel agencies, or buy Jamaican products and foods, or get recipes to savor our cooking, or simply listen to and enjoy Reggae music. There's so much to see in attractive Jamaica and so many ways to go about it that there are no excuse to come and visit us. There are cruisers, boats and ships to the island daily and there are connecting flights from many cities around the world.
Everybody wants to come to the island in the sun whether it is to sunbathe, fish, swim, dance, go snorkeling, scuba diving or savoring our cuisine and the excellent array of fine rums we offer. I'm so happy I can work with the Jamaican Tourist Board and Caricom to help make more people enjoy the country and at the same time promote my books and my passion, reading. By the way, how many books have you read so far this year? Relate to me the most interesting one you liked and why?
At Wade Hilton from Jamaica, we love to hear your opinions and comments on all the subject matters that concern us. Books and authors are among them, but we're open to everything literary. So please write to us to let us know what is on your mind. Rest assured that you're voice will be heard right here at Wade Hilton from Jamaica.

---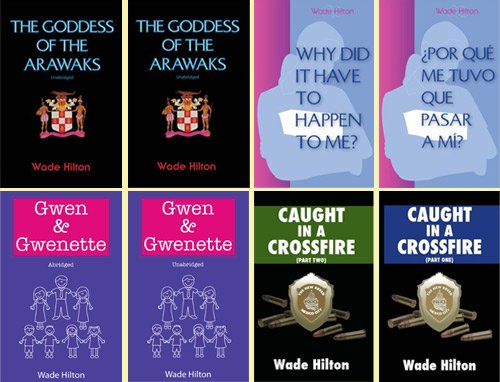 ---
---
Books - Wade Hilton from Jamaica

Books will never disappear for they're the extension of our imagination.
E-books - Wade Hilton from Jamaica
E-books will replace books and perhaps authors.
Novels are the best form of writing, maybe the only one that will make books not disappear.
Writers from Jamaica and abroad
Writers from Jamaica and abroad with a passion for great storytelling.
Only a few publishers will survive the e-technology
Publishers have to make an extra effort to stay alive as the publishing business.
Jamaica is the best place for a vacation with connecting flights from around the globe and all the commodities in the country to have a good time.
Jamaican Authors - Wade Hilton from Jamaica
Jamaican authors should get together and use their work to promote the country and reap the benefits.
The Wade Hilton Blog aims to bring you all the latest news and happenings from our webpages at wadehilton-from-jamaica.com
TubeLaunch is the hottest way to make money online right now. All you have to do is upload your own or ready-made videos to YouTube and get paid for it. You can't miss out on this!
---
Wade Hilton from Jamaica
---
---
---
Mass Video Generator will automatically help you create one unique video per keyword you want to target, and it does with music, text, images and effects. There's nothing like MVG! Check it out now!
---
Piano4all is the easiest and most effective way of learning to play the piano and keyboard online. This ingenious new method will show you how to play Pop, Jazz, Blues. Ballads, Ragtime, and even amazing classical pieces. Click here to get started!
---
Check Page Rank of your Web site pages instantly:
This page rank checking tool is powered by Page Rank Checker service
---

---
---
This kind of meditation will help you get rid of stress, break free from phobias and behavioral problems, and bring you into deep relaxation, long lasting peace and happiness. Click here to find out more!
---
---
---
---
My-island-jamaica.com is the hottest site for the latest press releases in Jamaica.
Visit my-island-jamaica.com!
---
You can learn to dance Salsa quickly with these wonderful videos. They take you through a proven, step-by-step course that'll make you start dancing right away. Click here to get started!
---
Enjoy your dessert without sacrificing your health with artificial sweeteners. Here's an array of fat-burning recipes that will make you eat without guilt. Click on the link to see for yourself.
---
The Venus Factor is all about losing weight and keeping it off. The secret resides in the hormone Leptin which is the key to burning fat. Click here to see how weight loss is resolved!
---
Start watching any movie you want on your PC, Smartphone or TV set. You can download comedies, cartoons, romance, thrillers, Scifi, children movies, or anything you desire right here.
---
If you're out to trade, here's an easy and realistic way to go about it. Binary Options help you earn more profits by watching and copying a live professional trader.
---
---