E-book Readers
Electronic books readers are becoming more and more sophisticated as the e-book world takes its shape over the Internet and deep into our lives. For the first time the sales of e-books have surpassed that of books and have helped provoke a boom in e-readers. They're everywhere to be found now as the leaders in the market race to get their share and perfect their apparatuses. The changes become apparent practically over weeks and months. Amazon has just refreshed its Third-generation Kindle which comes in two versions: The Kindle Wi-Fi and the Kindle 2. The Kindle DX, which was launched in the summer of 2011, has an eye-pleasing graphite that makes the experience of reading a wonderful one for everybody. Barnes and Noble now has two versions of its e-reader: Nook Wi-Fi and nook Wi-Fi+3G, and they're doing very well on the market although they still fall behind the leader, Kindle. The Sony Pocket Reader and the Kobe e-reader have been trailing behind in popularity and sales perhaps because they don't support Wi-Fi, making it difficult for readers to use them in a lot of places. The Apple iPad is easy to use and has become very popular among a lot of e-readers. Steve Jobs' demise and all those Apple lovers out there have rallied behind the machine to support it. The Kobo eReader, the Bookeen Cybook Opus, the DMC Ocean, the Endless Ideas Bebook Neo, the ETACO jetbook, the Hanvon N520, the iRex Digital Reader, the Jinke Hanlin V5, and the Alex eReader are probably not as popular as the well-known brands; however, they're growing among web users and e-readers, and will undoubtedly continue to do so.
E-book Readers Just Keep Getting Better
Most of these e-readers are speedy and the waveform technology they employ produces excellent images or texts as they are now called in the electronic world. Some of them will let you change line spacing and typeface to adjust your sight to what suits you best. On quite a number of them you can upload your files and messages to Facebook, Twitter, LinkedIn and other social networks. Their storage capacity is very big and in some cases reaches up to 2 GB, big enough to carry up to 1,500 books. What else can you ask for when it comes to e-reading?

There's a world of differences among today's e-readers. They haven't succeeded in coming together to do things beneficial to all of them. They could all create a definitive user interface and agree on a common file format to make reading as intimate as possible, or as much as it is when we read a book. Interests have blocked them from seeing eye to eye on e-reading and what is best for the client, the reader. We understand why Barnes and Noble has gotten into the business of e-reading and we love all the things Amazon has done to take digital books and their apparatuses to where they are today. But as the two giants in the industry they can come together and sow trust in the marketplace and some of the other producers of the service, or should I say most of them, will come together and reap the benefits of this new world of e-books and people who love to read.
E-readers Have a Bright Future
If these e-reader providers keep turning their backs on one another simply because they want to gain as much of the market share as they can, they will end up encouraging piracy which will eventually harm the publishing business in general and, of course, themselves. It will affect the sales of e-books in a tremendous way and most likely bring about other negative consequences. In this age of technological advances, why can't they see eye to eye especially on an issue that will be beneficial for all the parts? Everybody can have a piece of the pie and there will still be enough even for newcomers. E-readers still have a lot of development to carry out and it will be best for them to see beyond a share of the market. They should take the users of these electronic gadgets and gizmos more into account because they're the ones who'll be loyal to their brands and that should be important to these providers seeing that these apparatuses are outdated with the speed of technological advances.
We at Wade Hilton from Jamaica welcome your opinion on the subject matter. It is of vital importance to us to hear from you, so don't hesitate to let us know what you think should be done in this world of e-readers and their producers.Will they eventually find a solution that will benefit both sides?

---
From free to full-service,
CreateSpace
offers book publishing options to meet your needs and budget.
Sign up free now.
---
---
---
---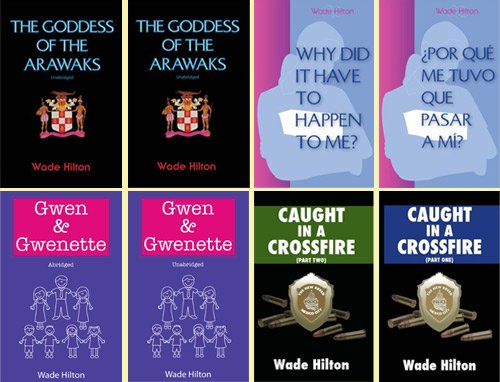 ---
Get Published: Take your book from manuscript to the masses with
self-publishing and print-on-demand from CreateSpace.
---
---
---

---
---
Get unlimited access to over a billion records. Find out whatever you want with this instant background check on investigation services, information and public records searches. Click here to have access to all kinds of data!
---
Learn how to belly dance from the comfort of your own home with one-on-one coaching. The results are guaranteed and you'll start belly dancing from the first class. Click here to find out!
---
---
The Venus Factor is all about losing weight and keeping it off. The secret resides in the hormone Leptin which is the key to burning fat. Click here to see how weight loss is resolved!
---
Here's the brilliant yoga weight loss system that'll help you get those kilos off from the places that they seem to stick to most. Click here to see what it's all about. You'll love it!
---
---
Did you know that you can borrow money for real estate, business finance, or to lease vehicles and equipment, or for credit lines? Yes, you can. By establishing a business credit right here. See for yourself!
---
Learn to speak Hindi quickly and easily, just like a native speaker, with Rocket Languages. Attention available 24/7. Click Here to find out more about this wonderful technique!
---
---
Download unlimited movies and watch them on your computer,TV or electronic devices. ImoviesClub membership plans include access to 45,000 ebooks archive.
---
Here's a great way to make money with Internet marketing by easily creating mobile apps to generate passive income. Click here to find out exactly how to go about taking care of business.
---
---
Have A High-tech Story About E-readers?
Have you got a great story about these new gadgets called e-book readers? Then let us hear about it right here where it seems that nothing will stop these little gizmos from changing the way we read.
TubeLaunch is the hottest way to make money online right now. All you have to do is upload your own or ready-made videos to YouTube and get paid for it. You can't miss out on this!
---
EasyVideoSuite is the most powerful video marketing software on the Internet. You can create your videos, then publish and market them with this drag-and-drop system. Click here to find out more!
---
It's always good to have somebody to count on in times of trouble. Let Registry Easy scan and safely get rid of errors and invalid entries that can cause your PC to freeze or crash. Click here for a closer look!
---
After English, Spanish is the most important language spoken around the globe. Speaking it has been made an easy task with this fantastic method. Click here to start learning it now!
---
---