Caribbean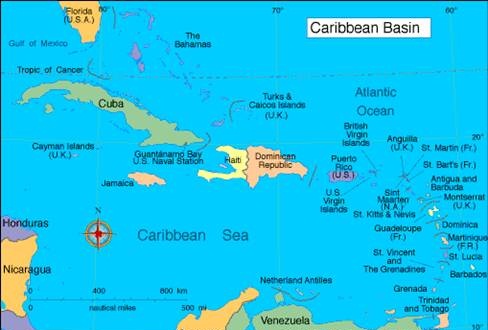 The Caribbean is a group of islands situated in the heart of the Caribbean Sea. They spread from The Bahamas all the way down to the tip of the South American continent where they end up in Guyana. The entire region has an area of 2,752,000 sq km, 1,062,000 sq mi, with a population of 40 million people and is made up of the Lucayan Archipelago: The Bahamas, Turks and Caicos Islands, the Greater and Lesser Antilles: Cuba, Dominican Republic, Haiti, Jamaica, Cayman Islands, Puerto Rico, Saint Croix, Saint Thomas, Saint John, Water Island, Tortola, Virgin Gorda, Anegada, Jost Van Dyke, Anguilla, Antigua, Barbuda, Redonda, Saint Martin, Sint Maarten, Saba, Sint Eustatius, Saint Barthelemy, Saint Kitts, Nevis, Montserrat, Guadeloupe, Les Saintes, Marie-Galante, la Desirade, the windward and Leeward Islands: Dominica, Martinque, Saint Lucia, Saint Vincent, The Grenadines, Grenada, Carriacou and Petite Martinique, Barbados, Trinidad and Tobago, Aruba, Curacao, and Bonaire. Its ethnic background is made up of Amerindians such as Arawaks, Caribs, Tainos, Lucayans, Indo- and Afro-Caribbean, Chinese and Europeans. Their languages include Spanish, English, French, Dutch and a lot of dialects and native tongues common to the region. There are thirteen sovereign states and seventeen dependent territories. The region was named after the Caribs who inhabited a great part of the area during a long period of time which is still to be determined from beginning to end.
This region is of immense beauty and its greenish blue water, splendid beaches often strewn with pristine white sand unknown anywhere else on the planet, and beautiful vegetation of mountainous ranges and valleys has come to symbolize a vacation haven for the entire world. People from every continent and every walk of life visit the Caribbean for relaxation and they unavoidably come into contact with all its luscious natural features. Wherever you go, there are pictures, posters, and postcards decked with beautiful images showing off one of the most precious regions on the globe.

The Caribbean is Made up of a Mixture, a Melting Pot
The invasion of the Spaniards starting from the arrival of Christopher Columbus brought diseases and destruction to the region. A vast number of the population died out as Spain brutally hacked most of these people to death. There are very few pure-blooded Indians and most of the ones who have survived to this day are mixed with Africans, who were brought in as slaves by the Spaniards and later the English who wrestled away most of the islands, and Europeans. Their culture was almost obliterated and the remnants of their heritage are proof that they were sophisticated groups of people and not primitive as Columbus and his gang of thugs deemed to call them. They might not have been as classy and stylish as their European counterparts, but they were peaceful and kind and had no intention, or means for that matter, of warding off their aggressors who practically wiped them out with their sophisticated weapons at the time. It is hard to understand here who was more primitive, the Spaniards or the natives of the Caribbean islands.
Of course the people of the Caribbean were, in the eyes of their annihilators. However, they did not ask the warmongers and thieves to invade and destroy their habitat. They did not want them there and from the very beginning thought that they were evil and wretched creatures. How can we celebrate Columbus Day and put aside the culture of our forefathers? They're the ones who discovered not only the Caribbean but all of the Americas. How can we still dare call the region the West Indies after knowing that Columbus made a big mistake, for he thought he had set sail to West India and not the Caribbean? It's time for us to get together and eradicate this fallacy. We are the leaders of the region now and we have the say, the power to right this wrong. Perhaps Columbus made a great voyage but he did not discover the American continent, the Caribs, Arawaks, Tainos, Lucayans or another tribe did. They were in the region centuries before he came into the picture. Let's not make the mistake of calling the region what they thought it was. Let's call it what it is: the Caribbean.
With Our Music, Food And Climate Tourism is What we do Best
Today the Caribbean islands have striven to great heights and have produced music, dances, costumes, art and crafts, some of the finest cuisine in the world, and a lot of sportswomen and men who excel at what they do. The region is still growing and every single island, even though a lot of them are linked to or governed by other countries, has some kind of commerce, produces something other than depending exclusively on tourism which was, and still is for lot of them, the main economical support. However, they have a way to do a lot of business, and in every aspect, historically, culturally and socially. These islands have the power to ensure that because of the fact that their climate can lure and always will lure people toward them. This luring has been effective during the last years and the idea of attracting people to them must come along with a highly sophisticated way of making their guests enjoy themselves to the utmost. These islands as a region have to come together and do everything to offer tourists, guests or visitors an excellent time mixed with diversion, entertainment, the best in food and beverages and all kinds of aquatic sports. The Caribbean Islands still hold a great strategic position and a wonderful climate to become even better at what they do: make more people visit them and have the best time of their life.
We'll go out of Our Way to Take Care of Business For You
At Wade Hilton from Jamaica we're sure that there'll be a lot of comments about these beautiful gems called the Caribbean Islands. As a matter of fact, that's what we want and don't forget that we're glad to receive them and will respond in one way or another to every one of them, so don't hesitate to send them in. We're looking forward to hearing from you as soon as possible.

---
---
---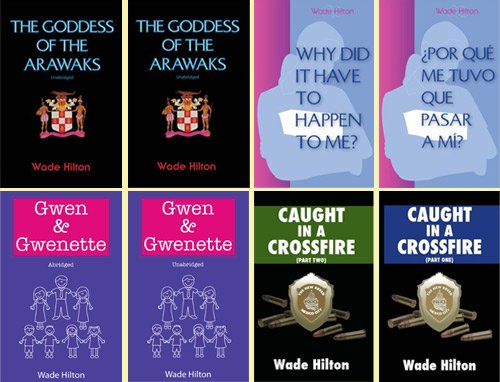 ---
---
---

---
You can learn to dance Salsa quickly with these wonderful videos. They take you through a proven, step-by-step course that'll make you start dancing right away. Click here to get started!
---
It's always good to have somebody to count on in times of trouble. Let Registry Easy scan and safely get rid of errors and invalid entries that can cause your PC to freeze or crash. Click here for a closer look!
---
---
Here's the brilliant yoga weight loss system that'll help you get those kilos off from the places that they seem to stick to most. Click here to see what it's all about. You'll love it!
---
Rocket Italian is an easy way of learning this language. It takes you through a step-by-step method that makes you speak and understand Italian from the very first session. Click here to start speaking like a native!
---
You can sell almost anything through SaleHoo and make huge profits doing so. Unleash the unlimited potential and start making money online by clicking here.
---
This is like having Hollywood at your fingertips when it comes to classic movies. Let Full Movies help you quickly and easily stream unlimited movies to your computer, TV or mobile.
---
---
---
Chinese is currently one of the most important languages that people around the globe want to learn. Here's your chance to speak and understand it easily online. Click here to take a closer look!
---
Paleo recipes are here to help you achieve your best health, stay in optimum shape and experience all the energy you can pump up. Click here to learn about the most nutritious, healthiest and tastiest ingredients ever.
---
---
Have A Great Story About The Caribbean Uniting As One Nation?
Do you have a great story about the Caribbean? Share it with us right here and let us know what would happen if the region decides to turn itself into one nation.
---
EasyVideoSuite is the most powerful video marketing software on the Internet. You can create your videos, then publish and market them with this drag-and-drop system. Click here to find out more!
---
DigiCamCash can show you how to turn your photos into money. All you have to do is take your pictures, submit them online and earn hard cash doing it. Click here to learn how.
---
---
The Venus Factor is all about losing weight and keeping it off. The secret resides in the hormone Leptin which is the key to burning fat. Click here to see how weight loss is resolved!
---
After English, Spanish is the most important language spoken around the globe. Speaking it has been made an easy task with this fantastic method. Click here to start learning it now!
---
---