Kindle Store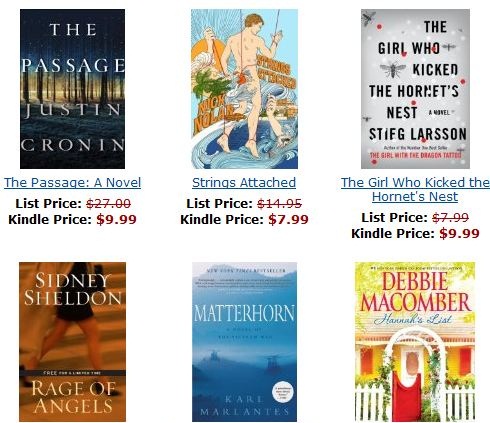 Everything Kindle at Amazon.com from the store down to the KDP set up where you can upload your book and market it at the store—The Kindle Store—has something helpful to make you succeed with your online endeavor. They've torn down the wall in publication by making it easy for anyone with knowledge of the computer and a manuscript in hand to publish their book. And that's not all! The Kindle Store provides you with a sophisticated way of marketing your book for a share of the sales price. And here's what it's all about. You do not pay a penny until the book is sold. This is a great way of doing business; for every author who wants to market his or her book, and especially those who work on a very low supply of capital, cash, can undoubtedly do it. There's no better way of producing an e-book and being able to sell it with such facilities provided by the store.
This is the opportunity every emerging author was waiting for. E-publish now and then think about print publish.

Amazon Will Even Market Your Book
There's no doubt that Amazon has captured the world with its Kindle everything. There are all kinds of Kindle e-readers, the Kindle, the kindle Keyboard, the Kindle Keyboard 3G and the Kindle DX. Around the store you can kind a lot of Kindle accessories and wide variety of Kindle books that are readily downloadable. It's every authors dream to be on the Kindle store because it's the most dynamic way to print and market your book and above all you pay only when a book is sold. This a great opportunity that authors have. Of course you'll need to spend some money on marketing if you really want the book to sell. After all, with all the tools that the Kindle Store provides you with a little push of your own might work wonders for your book.
You can also use the social networks to drive traffic to your site on Amazon.com. They are working very well for a lot of entrepreneurs who know how to use them to market their product or cause in a very effective way. They are a good way to let people know about your site at the Kindle Store now that one of your objectives is to sell the book. Nobody can beat this kind of facility to produce a book for free and market it at the same time on a site provided by the store and on top of that you pay them when they sell one of your books. Every author has to make use of this opportunity provided by Amazon. Think about it for a minute or two. With a little effort you can sell tens of thousands of copies of your books at $10.00 per book. The Kindle Store is definitely worth the while for authors especially the ones who are not in a position to come up with any substantial amount of money to invest in the publication of their book. There's nothing to beat this for any emerging author.

Authors And Publishers Are coming Together
The Kindle Store has come to mean a lot to an ever-growing number of authors who otherwise would not have been able to publish their work by way of traditional publishing. The store has given them the opportunity not only to publish their book but to do business as well. This has to be something great for authors to know that they can get their work out, published that is, and be presented with the ease of marketing them. The extra effort to really put them in the hands of people who will buy them depends on you. And the truth is it isn't hard to do because there are a lot of additional tools available to you and some of them are free.
The Kindle Store has been growing, expanding its online presence in a very successful way with authors, publishers and e-readers. Apart from their accessories, the bookstore is full of some of the latest books and a good stock of some of the oldies. It is believed that they have now surpassed the seventy thousand title mark. They also carry a fine stock of magazines, newspapers and sports books to satisfy your taste in reading. Their collection of romance books is very extensive due to the fact that they have a widespread demand for these kinds of books which have doubled their sales in the last few years. The Kindle Store is by far one of the best online businesses to exist right now and it will go even further in the near future to change the way we read and enjoy books. Soon they'll make millions of books available to a lot of readers who otherwise wouldn't be able to get them before.
Produce And Market Your Own Publication
At Wade Hilton from Jamaica we find the Kindle Store an interesting place where a lot of people not only read happily but also have the opportunity to publish their book. The store is also a wonderful place for authors to produce and market their work. It is also shaping a new and exciting way to read. Don't hesitate to contribute to the Kindle Store with your comments and opinions as they'll all be most welcome.
---
Get Published: Take your book from manuscript to the masses with
self-publishing and print-on-demand from CreateSpace.
---
---
---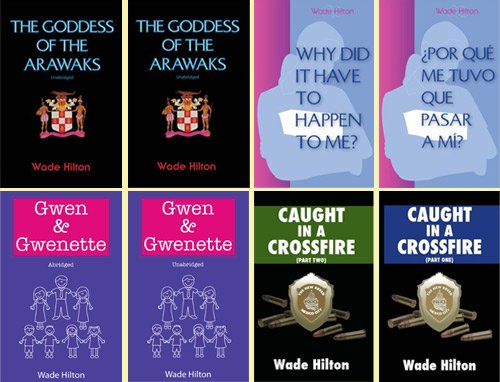 ---
Publish your book with CreateSpace:
get high royalties, low book prices, and expanded distribution.
---
---
---
---

---
---
Here's the brilliant yoga weight loss system that'll help you get those kilos off from the places that they seem to stick to most. Click here to see what it's all about. You'll love it!
---
Lottery Crusher is success guaranteed because it uses the same algorithm as the selection machines to beat the system and tells you the winning numbers. See for yourself.
---
Check Page Rank of your Web site pages instantly:
This page rank checking tool is powered by Page Rank Checker service
---
DigiCamCash can show you how to turn your photos into money. All you have to do is take your pictures, submit them online and earn hard cash doing it. Click here to learn how.
---
Make tons of money per month playing video games! Here's your chance to earn hard cash enjoying yourself while you go about it. Click here to join now and start making good money!
---
---
If you're out to trade, here's an easy and realistic way to go about it. Binary Options help you earn more profits by watching and copying a live professional trader.
---
EasyVideoSuite is the most powerful video marketing software on the Internet. You can create your videos, then publish and market them with this drag-and-drop system. Click here to find out more!
---
---
Download unlimited movies and watch them on your computer,TV or electronic devices. ImoviesClub membership plans include access to 45,000 ebooks archive.
---
Learn to speak French online with this proven method. It's fast and reliable and will get you speaking the language just like a native speaker in no time at all. Click here to get started!
---
---
Visit itsawinner.surfmoney.com!
Click on this link and watch the short video about SurfMoney. This program started to work for me over two years ago and it is still working for me today. Click on the member name to get my phone number, and call me.
---
Rocket Italian is an easy way of learning this language. It takes you through a step-by-step method that makes you speak and understand Italian from the very first session. Click here to start speaking like a native!
---
---
---
---
After English, Spanish is the most important language spoken around the globe. Speaking it has been made an easy task with this fantastic method. Click here to start learning it now!
---
Stop struggling and start mastering human anatomy and physiology. Learn everything you need to know in three simple days. Click here to find out more about this revolutionary technique.
---
Have A Great Story about Jamaica Being The Best Island In The Caribbean?
Got a great story as to why most people, especially those from the Caribbean region, would agree that Jamaica is the best in terms of food, music, athletism, the blending of different ethnic backgrounds, its influence on other islands, the beauty of the place itself, etc?
---
Enjoy your dessert without sacrificing your health with artificial sweeteners. Here's an array of fat-burning recipes that will make you eat without guilt. Click on the link to see for yourself.
---
Learn Portuguese with one of the hottest methods available online. You'll start speaking the language from the very first lesson. Click here to start learning the mother tongue in both Brazil and Portugal!
---